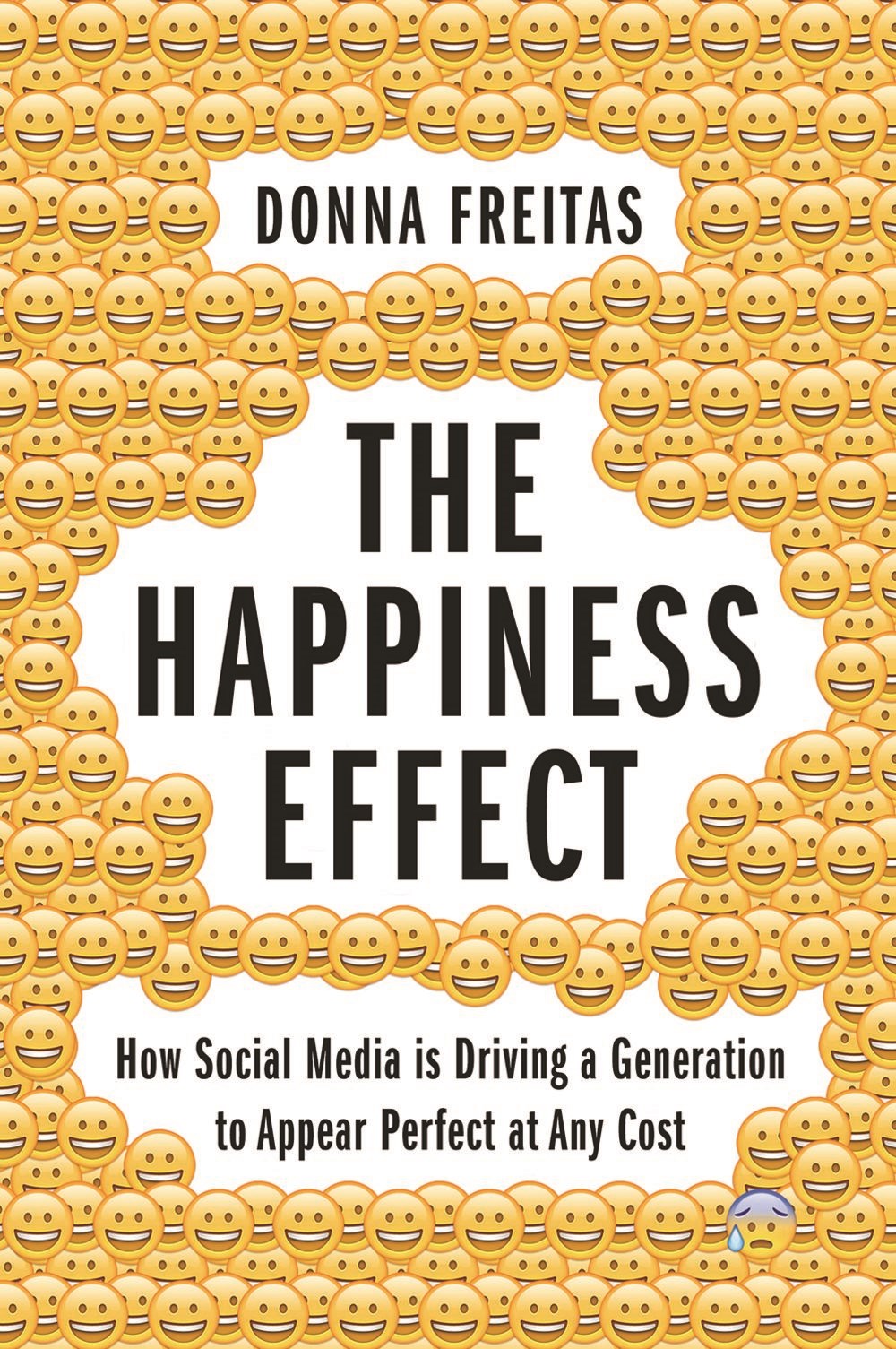 The Happiness Effect: How Social Media is Driving a Generation to Appear Perfect at Any Cost by Donna Freitas is a non-fiction book about the effects of social media on our relationships, mental health and happiness, with a focus on the effects that social media has on college-aged young adults. Recent news articles lament that social media is causing depression and low self-esteem because when users view the best of other user's experience and compare it to their own experiences they will always come up short. This book investigates this phenomenon, as well as cyber-bullying, how young people feel as if they constantly have to be available and respond to calls or texts immediately and how relationships and communication styles are evolving to include a more technology-driven culture. We learn that students are simultaneously encourages to "manicure" some of their social media pages so that they will appear perfect for prospective employers and in order to gain admission to the university of their dreams and use anonymous social media applications in order to express some of their darker thoughts and experiences. Freitas uses both interviews and surveys in order to gain information on social media and technology usage from a variety of sources. She then makes recommendations, at the end of her book, on how parents, educators and prospective employers can help young adults have a healthier relationship to social media.
As a millennial with a degree in psychology, I know first-hand the effects of social media. I am one of the young adults that Freitas speaks about who have partially detached from social media and enjoy breaks from my smartphone due to the lack of social civility and the feeling as if I must answer every email and text right away. I used to answer work emails as soon as I received them and realized the absurdity of it when I found myself exhausted after answering unimportant emails at four o'clock in the morning, when I would have rather been sleeping. I appreciated reading the stories of other young adults who have been in my situation and I no longer feel bad for not updating my Facebook page every day (or every week). That being said, this book was hard to read. Many times, it was very boring and read much like the academic articles that I would read in school. Freitas repeated many of the comments and some of the information from paragraph to paragraph and even from chapter to chapter. This made reading it feel clunky and as if I had reread large amounts of text. I had to force myself to finish the book and it took a lot longer than a book of this size would normally, for that reason.
Most of Freitas comments about the interviews and surveys left me mouthing "Yes! Yes!" to my kindle because Freitas seemed to understand millennials in a way that most people refuse to see us. Constantly checking ones smartphone and updating one's status is not a sign that we are ego-maniacal and self-centered but simply that this is part of the culture in which we have been raised. I do not recall an adolescent moment in which I didn't have the internet and have grown up using it for convenience and communication. We are far from narcissistic with many of us feeling vulnerable and suffering from low self-esteem staring at all of our "friends" happy faces and feeling as if employers and other authority figures are constantly judging us for every misstep. We don't participate in unsavory behavior anymore than past generations have; it's just publicized more often. That feeling of finally being understood dissipated when Freitas gave advice and suggestions for parents and educators on how to help young people to disconnect from technology, however. Freitas gives advice that sounds as if she has bought into the common theme that young people just need to be taught how to be less selfish, tossing out her former beliefs that our generation is no more self-centered than any other. Instead of so much advice on how young people can disconnect, I would have liked to have seen more advice encouraging understanding and encouraging freedom of expression on social media. There was some of that but I would have liked to see more.
The Happiness Effect has a lot of information from research that has been ignored from others in the academic community but it could have been written in such a way that it was more interesting to read and the author could have avoided contradicting herself in some places in the book. The hardcover of this book is currently available and the e-book will be available on January 31, 2017. It can be purchased at
Amazon
and
Barnes and Noble
. Read other's reviews on
Goodreads
.
I received an advanced copy of this book from the publisher in order to review it but that did not have an effect on my review of the book. This is my honest opinion of this book. I am a participant in the Amazon Affiliates program. By clicking on the Amazon link and purchasing this product, I receive a small fee. I am not associated with Goodreads or Barnes and Noble in any way and the links provided are available strictly for your convenience and not to imply a relationship of any kind.
I do not track activity of visitors beyond that which blogger already does. If you click on an outside link, those websites may track your activity but I do not actively share any information with third-party websites.