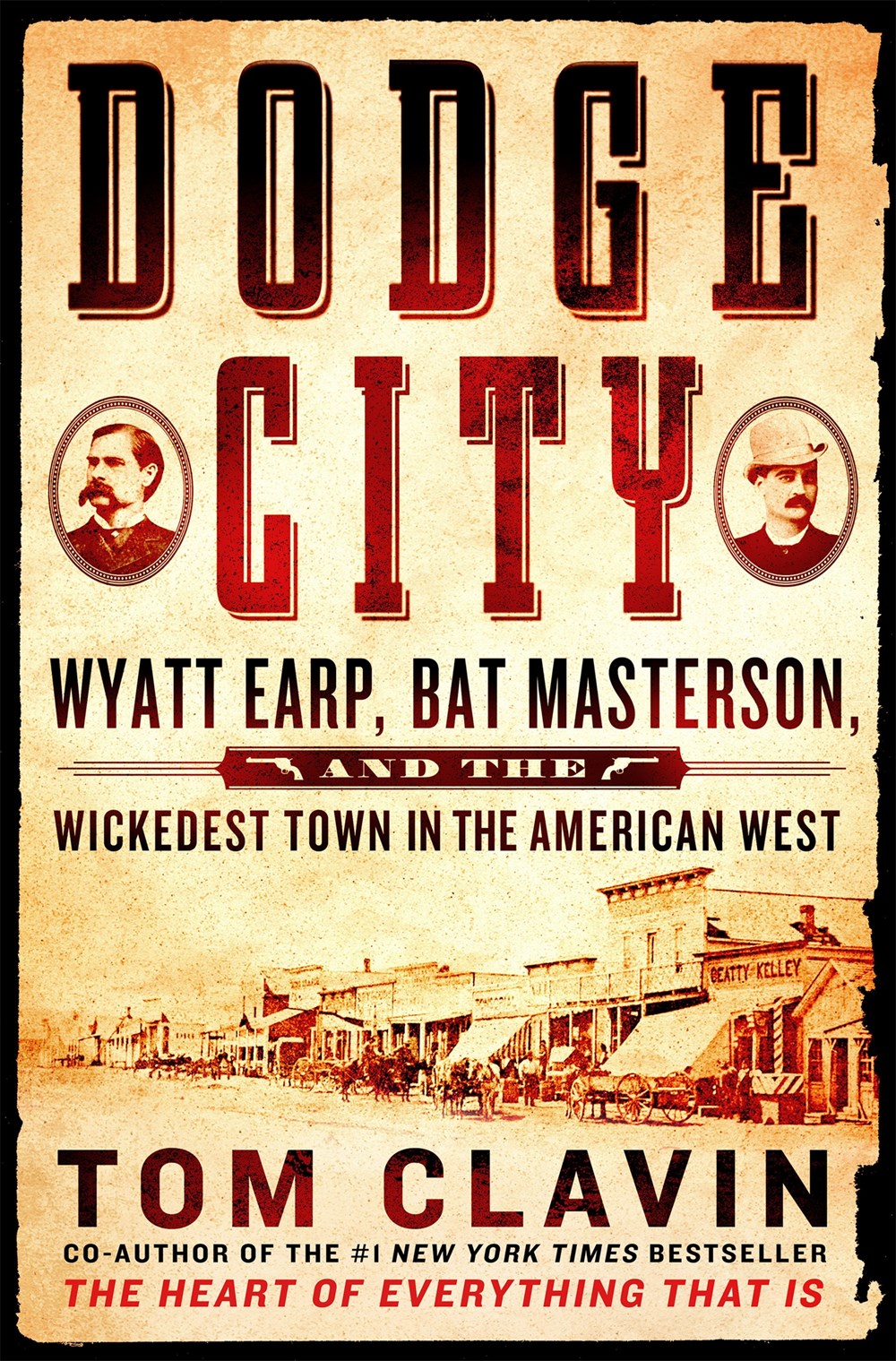 I enjoy reading history books but American history is not my favorite place to read about and the 1800s is not my favorite time period to read about. When I read the synopsis for
Dodge City
, I was intrigued, despite my borderline apathy for 1800s American history because this is a subject that I know little about. I had never heard of Dodge City or Bat Masterson and my only knowledge of Wyatt Earp was when Blake Shelton played him in
Adam Sandler's "Ridiculous 6"
. The movie is available on Netflix, it is hilarious (though not for the easily offended) and is completely inappropriate for teaching any history about the Wild West. Suffice it to say, I don't know too much about this time period in American history. Clavin's
Dodge City
changed all of that, though. While I can't consider myself an expert, I can say that I know a bit more about the Wild West.
Dodge City is one of the most notorious cities in the Wild West. Saloons and bordellos abound in the city and are a boon to the town's economy due to the large amount of visiting cowboys that stop off to spend their money on entertainment they couldn't get while moving cattle. Shootouts over gambling disputes or between drunken men are not infrequent. Neither are threats from neighboring Native American tribes who are still simmering from the recent theft of their land and the killing off of one of their most important resources, the buffalo. Bat Masterson and Wyatt Earp are employed as lawmen in the area to try to impart peace and they bring a new kind of justice to the American west. Many lawmen before had a "shoot first, ask questions later" attitude and mob justice was the preferred way in which to handle suspects. Bat Masterson and Wyatt Earp shot to disarm, not to kill, and took suspects in to face the justice of a court instead of allowing angry mobs to hang whomever they pleased. This doesn't imply that they weren't tough, though. The men were some of the best shooters in the land and took down many high profile criminals.
Clavin is a wonderful writer. While a non-fiction writer's first goal should be to disseminate information, many are unable to do so in a palatable way. Not so with
Dodge City
. This book has all of the excitement and fun that can be gleaned from reading a novel while still giving one an amazing amount of information that readers can use to impress their friends. The amount of creative nicknames that some of the residents had, alone, will bring hours of entertainment. The book is incredibly well researched, which was difficult because, as the author mentions in the book many times, much of the information surrounding Dodge City, Wyatt Earp and Bat Masterson is more legend than fact. Any reader that enjoys history will likely enjoy this book and I highly recommend it to anyone looking to read the true stories about the Wild West.
Reviews of books similar to this one:
The Wicked City by Beatriz Williams (fiction)
The Lost City of the Monkey God by Douglas Preston (non-fiction)
The Travelers by Chris Pavone (fiction)
This book will be available on February 28, 2017 and can be purchased from
Amazon
and
Barnes & Noble
. Read more reviews on this book on
Goodreads
.
I received an advanced copy of this book from the publisher in order to review it but that did not have an effect on my review of the book. This is my honest opinion of this book. I am a participant in the Amazon Affiliates program. By clicking on the Amazon link and purchasing this product, I receive a small fee. I am not associated with Goodreads or Barnes and Noble in any way and the links provided are available strictly for your convenience and not to imply a relationship of any kind.