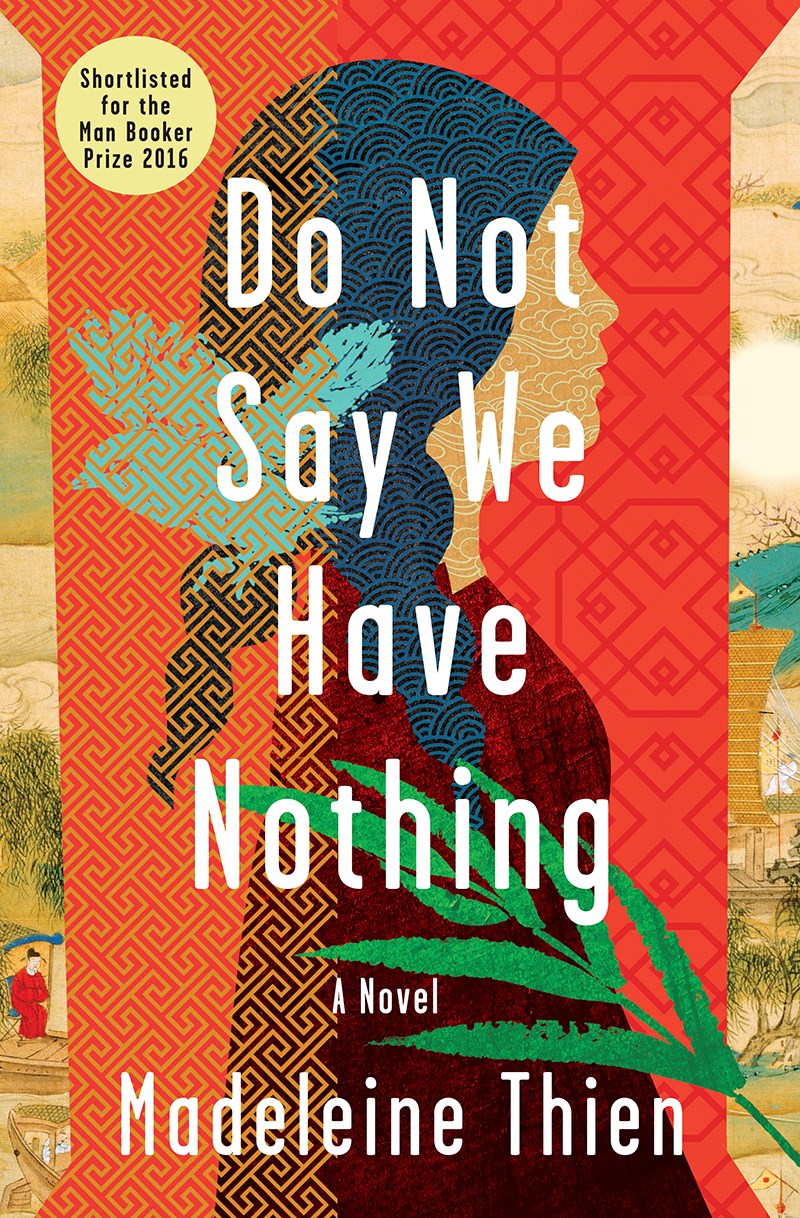 I originally wanted to read
Do Not Say We Have Nothing by Madeleine Thien because I found out that it was short-listed for the Man Booker Prize for 2016
. While
Do Not Say We Have Nothing
did not go on to win the award (that honor went to
The Sellout
by Paul Beatty), Thien's novel about communist China is definitely worth picking up.
I am a recent reader of Man Booker Prize winners and nominees. I heard about the prize for novels written in English and published in the UK when I heard that
A Brief History of Seven Killings
by Marlon James won the prize. I had previously read and enjoyed James'
The Book of Night Women
and wanted to read more by the author. After reading
A Brief History of Seven Killings
, I wanted more of the Man Booker Prize. Prize nominees do not have to be from the UK and, in fact, Thien lives in Canada and Beatty lives in the US.
Do Not Say We Have Nothing
was the second Man Booker Prize book I have read but it definitely will not be my last. It has been a blast going through the nominees and winners to find authors I have not heard of before but would be interested in reading.
Do Not Say We Have Nothing
begins with young Marie and her mother finding part of a hand-written book that her deceased father has left behind. A daughter of a friend of Marie's father, Ai-Ming, joins the shrinking family and begins to tell the story of the book and of a family that spans the generations from the very beginnings of Mao's revolution to the modern time. The family is flung all over the world as they try to adapt to the changing politics of their country. As Ai-Ming's father, Sparrow, is a composer, music and the love of music is interwoven into the story. The family's fight to be able to listen to the music that they enjoy and the books that they feel are important is inspiring and makes one appreciate the access one has to libraries of books and music, and the freedom to consume them, that we do today, in the Western world. I too often forget that the ability to express my own thoughts and agree or disagree with those of others is a gift but I was reminded of that fact while reading the the harsh consequences for a young family's possession of a secret library.
Thien's imagery is so realistic, I really thought that this novel was based on a true story. Of course, it could be. It is a novel but the stories that this book tells are very similar to other stories that I have read and heard from the time period in China. Some of the scenes are not for the faint of heart but I think that they are supremely important. As George Santayana warns us, "Those who cannot remember the past are condemned to repeat it." I derived warnings from the stories in this book; not just warnings against totalitarianism but also about the costs of revolutions, of any kind. Should the price of change really be blood? In addition to the importance of this book, it was also very interesting. While the book is well over 400 pages, I still finished it over the course of one day and night because it was difficult to put down. I wanted to find out what happened to Ai-Ming, Sparrow and the rest of the extended family.
The characters were superb! Just like the story, the characters were very realistic. Marie's anger towards her father's suicide was one of the most honest portrayal of the survivors of a family member's suicide I have met in a novel, thus far. Suffice it to say, I really enjoyed this book and I look forward to reading more from Thien. The only thing that I regret about this novel is that I waited so long to read it. I highly recommend this book to anyone that is interested in a good book, period, but especially those readers who enjoy historical fiction that is a bit more on the modern side.
You may also enjoy my reviews on these related books:
Pachinko by Min Jin Lee
The Patriots by Sana Krasikov
We Were the Lucky Ones by Georgia Hunter
This book is currently available and can be purchased from
Amazon
and
Barnes & Noble
. Read more reviews on this book on
Goodreads
.
This is my honest opinion of this book. I am a participant in the Amazon Affiliates program. By clicking on the Amazon link and purchasing this product, I receive a small fee. I am not associated with Goodreads, Barnes and Noble or the Man Booker Prize in any way and the links provided are available strictly for your convenience and not to imply a relationship of any kind.
I do not track activity of visitors beyond that which blogger already does. If you click on an outside link, those websites may track your activity but I do not actively share any information with third-party websites.