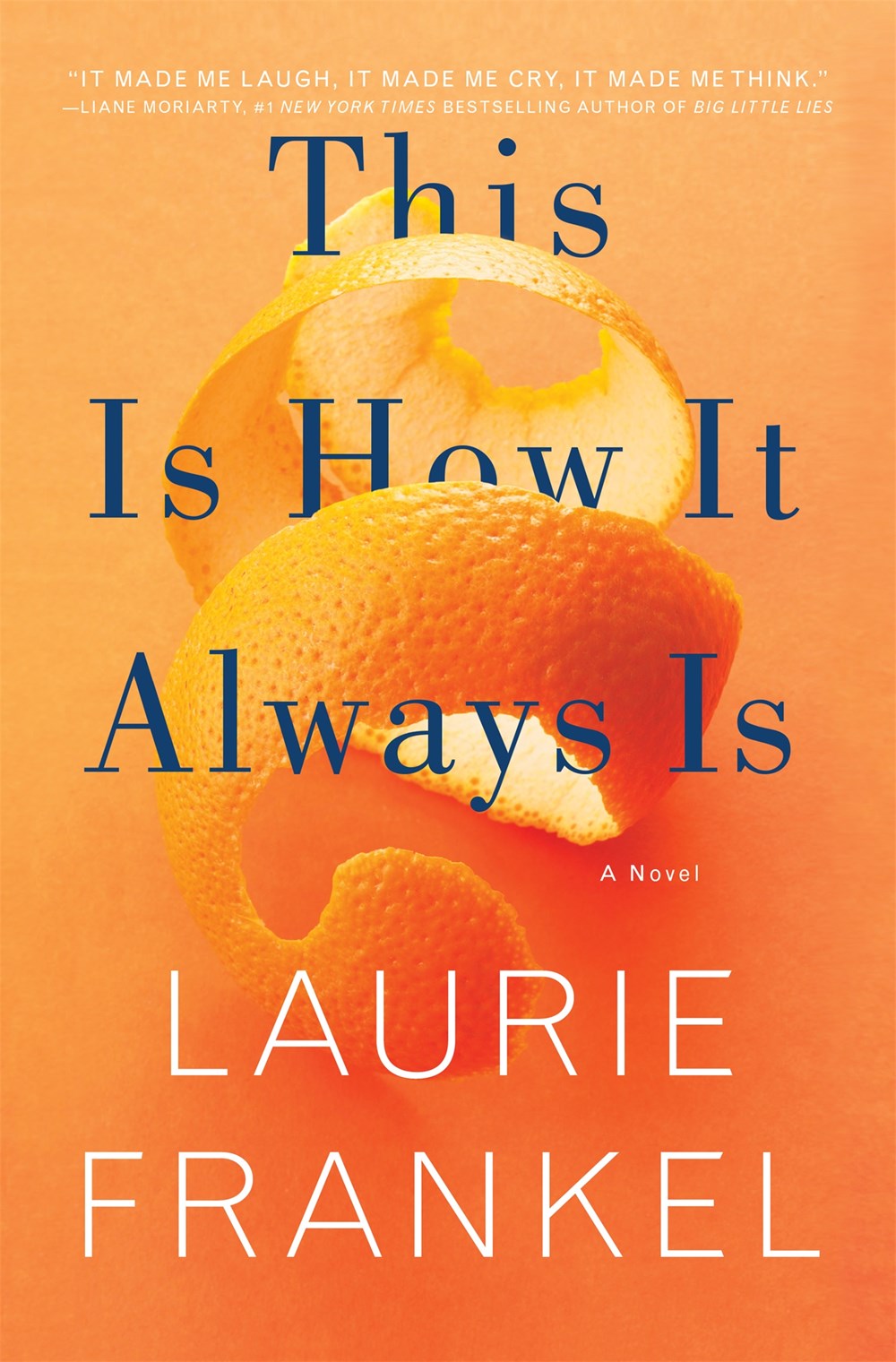 I have a confession to make. We have all been taught not to judge a book by its cover and I usually don't choose a book based on one but I actually picked up
This Is How It Always Is
without reading the synopsis. I loved the orange background with the perfect, spiraled orange peel on the front. It was beautiful and I wanted to open it up and see what beauty was inside. When I saw that the book got great reviews from Liane Moriarty, Jamie Ford, Ruth Ozeki and Maria Semple, some of my favorite writers, I knew I had to read it. Then I read the synopsis while walking out of the library with the book and thought, "I probably should have read the synopsis." I didn't think that because of the book's potential "crunch" factor (the book may be a bit granola to some but it is not overpowering) but because I have seen how many authors and publishers have seemed to become obsessed with pumping out topic-of-the-day books without the accompanying substance. I was then pleasantly surprised to find out that Frankel's account was nothing of the sort.
Since the death of her sister, emergency room physician Rosie has always wanted a daughter with long hair that she could brush and dress. Instead, she and Penn were blessed with five boys. Claude is their youngest and early in his life he expressed to his parents that he wanted to wear dresses and when asked what he wanted to be when he grew up, he always answered that he wanted to be a girl. Rosie and Penn accept their child's wishes and Claude becomes Poppy. When Rosie discovers that one of her late-night patients has been beaten and shot because it was discovered that she was transgendered, the family decides to move across the country to the more liberal community of Seattle. On the first day there, they make a decision that will change the way that the family sees Poppy and the way that Poppy sees herself.
The characters were developed in this novel but not quite as complex as I would have liked. Though Rosie and Penn believe themselves to be accepting of all of their children, regardless of whatever they choose to be, they quickly condemn the beliefs that they suspect are held by Roo, their oldest son, without an open dialogue. Rosie's character very much followed the over-worked doctor character and Penn was the quintessential writer who tries so hard to finish the great American novel but just can't seem to do it. That being said, there were a lot of discussions in this book about the "maybes" of gender and the children's characters reflect that. None of the children are "typical" boys. They are each individuals with varying interests. Some of them are more into sports, some are more into intellectual pursuits and some are just rambunctious boys most of the time but cuddly fairy tale listeners other times. The kids were my favorite characters in this novel and not just Poppy/Claude.
This novel flows very well and is easy to read. It was a fast-read and was very enjoyable. This book is not a downer. There is humor and honesty that will take you through to the end. Frankel and her characters do not attempt to answer any questions for anyone about gender dysphoria and how it should be handled. If you are looking for advice, this is not the book for you. It is a great book for opening up a dialogue, though, and would be great for a book club. Overall, I enjoyed reading this book and would recommend it to those looking for a novel about family.
Reviews of other books you may enjoy:
The Nearness of You by Amanda Eyre Ward
The Weight of Him by Ethel Rohan
The Road to Enchantment by Kaya McLaren
This book is currently available and can be purchased from
Amazon
and
Barnes & Noble
. Read more reviews on this book on
Goodreads
.
This is my honest opinion of this book. I am a participant in the Amazon Affiliates program. By clicking on the Amazon link and purchasing this product, I receive a small fee. I am not associated with Goodreads or Barnes and Noble in any way and the links provided are available strictly for your convenience and not to imply a relationship of any kind.
I do not track activity of visitors beyond that which blogger already does. If you click on an outside link, those websites may track your activity but I do not actively share any information with third-party websites.