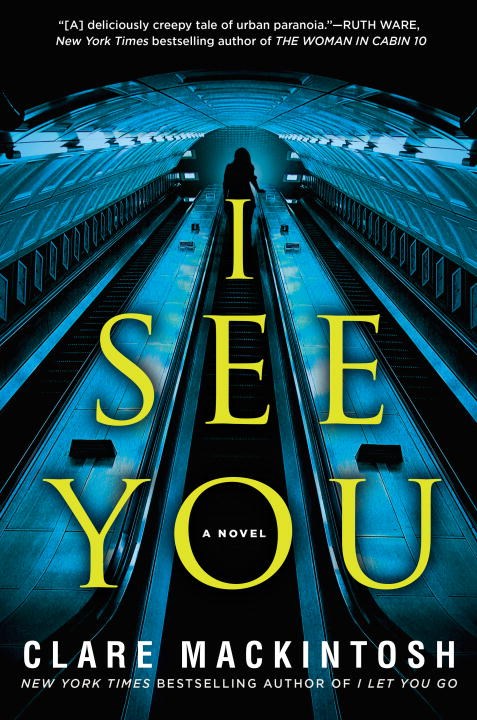 Not too long ago, I read Clare Mackintosh's
I Let You Go
and I was very impressed with the suspense, the authentic feel of the story and an ending that was a complete shocker. Mackintosh has a special gift in weaving a tale that is thrilling and addictive. Needless to say, I was excited to get my hands on
I See You.
I was not disappointed! I think that
I See You
may have been even better than
I Let You Go.
Zoe is mom to two young adults, Justin and Katie. Katie has her heart set on being an actress while Justin is furious with his mother for leaving his father and moving in another man, Simon. While commuting to work one day, Zoe notices that her picture is featured in an advertisement for a unique matchmaking website. Zoe soon realizes that women who have had their photos featured in the ads are being targeted as victims of crimes. Will Zoe or someone she knows be the next victim?
I am a big fan of Mackintosh's storytelling and impressed with her writing style. Her books read very quickly and there are twists and turns that make it difficult to put the book down. I think what makes this novel so truly terrifying is that it is such a real possibility. Social media has coerced us into mindlessly, but willingly, giving up our personal information. That information can easily be used, and is sometimes used, to harm the users of social media. Another theme that struck me is the fact that we don't often know those who we feel we are close to as much as we believe.
So who are these men?
They're your friends. They're your father, your brother, your best friend, your neighbor, your boss. They're the people you see every day; the people you travel to and from work with.
You're shocked. You think you know them better than that.
You're wrong.
Oftentimes, we are very vigilant when we are in public; worried that we could be harmed by a stranger. And we could be but, more often than not, it is someone we know who is the monster lurking in the shadows. I think Mackintosh's previous work in law enforcement has gifted her with a unique ability to present crime fiction in a way that feels very authentic. I really enjoyed this book and I would recommend it to anyone who enjoys thrillers or mysteries. I sincerely hope that Clare Mackintosh will put out more thrillers in the future. I will be one of the first in line to read them!
Reviews of books like this one:
I Let You Go by Clare Mackintosh
Ill Will by Dan Chaon
My Husband's Wife by Jane Corry
This book is currently available and can be purchased from
Amazon
and
Barnes & Noble
. Read more reviews on this book on
Goodreads
.
I received an advanced copy of this book from the publisher in order to review it but that did not have an effect on my review of the book. This is my honest opinion of this book. I am a participant in the Amazon Affiliates program. By clicking on the Amazon link and purchasing this product, I receive a small fee. I am not associated with Goodreads or Barnes and Noble in any way and the links provided are available strictly for your convenience and not to imply a relationship of any kind.